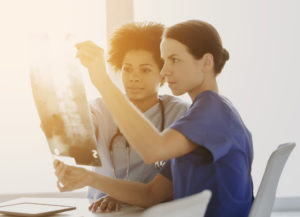 The traditional chiropractic practice has served the profession very well for 125 years, but more and more chiropractors across the nation are turning toward a multidisciplinary, or integrated, practice model. In a recent survey, Chiropractic Economics magazine found that 27% of respondents reported practicing in a multidisciplinary setting [defined as having a practicing DC and any other complementary medicine practitioner (massage therapist, acupuncturist, PT, etc., on staff)]. An additional 9% reported an integrated practice (defined as having a DC and MD/DO on staff).
Partnering with diverse healthcare providers, who share the chiropractic "conservative care first" approach to care, can greatly benefit your patients and improve your bottom line. More and more patients are searching for a wellness "home." A diverse practice that reflects the chiropractic wellness, conservative care model, can provide patients with the cost-effective, efficacious services they are looking for.
Benefits to Patients: Team-Based Care – Better Outcomes, Less Expensive
How many times have you, as a solo practitioner, referred a patient to another provider, only to never see them again? Or, you refer the patient, but never hear the results of the test or treatment they needed until the patient comes back for chiropractic care?
Creating a team of partners in care allows the practice to meet patients' needs that fall outside the chiropractic scope of practice. Co-management of patients through a diversified, comprehensive portfolio of services much broader than a chiropractic or medical practice, can increase continuity of care by offering a "one-stop" solution to their health care needs. This centralized approach to care also minimizes the need to go to multiple offices for consultations, testing, treatments, etc., resulting in greater convenience and a decreased investment of time for patients.
Benefits to the Practice: Additional Services = Additional Revenues
Offering additional services by adding different types of healthcare providers creates new revenue streams for integrated practices – revenue streams simply not available to a traditional chiropractic practice. The Chiropractic Economics survey shows that integrated clinics had significantly higher billings, collections, and salary and total compensation than chiropractor-only practices.
Practices that do not diversify their services can often experience other problems, such as low patient retention rates after a patient completes a course of treatment, slowly (or non-) expanding patient bases, stagnant billings and collections, etc. By offering "one-stop" practices that offer a wide range of treatment under one roof, patients of integrated practices return more frequently (to receive those additional services), creating stronger relationships with the providers involved in the practice. This also creates additional revenue for the practice.
Also, in an integrated practice, partners share expenses they would usually have to bear themselves or go without completely. These expenses could include equipment, patient billing, staffing, office management, and other services and/or products.
MichiCare Service Organization Can Help!
An integrated practice could be the wave of the future, and chiropractors looking to ride that wave need to know the federal and Michigan legal requirements, how to structure and set up the practice, billing and coding regulations, liability considerations, compliance with anti-kickback and fee-splitting laws, and much more.
MichiCare can provide expert assistance in forming legal structures, that meet all regulatory requirements, and create successful practices of like-minded healthcare providers. Other services provided by MichiCare include billing, practice consulting, healthcare IT solutions, legacy practice transitions, marketing, practice sales, and administrative assistance.
Leave a comment below or email us if you have questions!